How to Catch Your Hard to Catch Mule or Horse
In Dave's second DVD, he will guide you through simple, easy to follow steps teaching you how to catch your mule or horse. You will be amazed and delighted to learn that you too can easily train your mule or horse with these simple methods.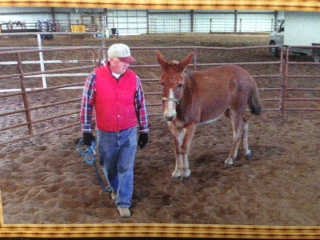 Teaching Your Mule or Horse to Lie Down – 51 min
Why Have Your Horse or Mule to Lie Down
Training Equipment
Four Step Process to Teach Your Mule to Lie Down to Mount
The Fifth Step to Train Your Mule to Dismount
In Dave's first DVD, he will teach you a simple four step process on how to get your mule to lie down to mount without any harsh or cruel methods.  You will see how it is done by pressure and release.


$49.95 with FREE SHIPPING